In Round 1 we beat Wellingborough by 2-1. We then had the afternoon off and returned on the Friday to play Canford who had beaten Whitgift. Our 1st pair, Roger and Andy, led at one stage against Canford's top pair, but lost narrowly. Our 2nd pair, Robin and Peter, played well, winning comfortably, and the 3rd pair, Martin and Michael, fought well, winning 2 & 1.
This put us into the quarter finals (played in the afternoon) and all 3 matches went down the 18th, all very tense, and unfortunately we lost 2-1 to Berkhamsted. All 3 pairs played well, the new boys thoroughly enjoying their baptism, and we hope to go further next year (it all depends on the draw).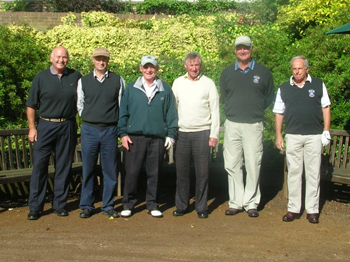 L- R are Andy Rose, Roger Wharton, Michael Spencer, Robin Anderton, Peter Watts and Martin Lamb.