The 7th Ladies' Golf Varsity Match took place this year at Rye Golf Club in East Sussex, and although it ended in victory for the Oxford team after a closely fought battle, it gave an opportunity for Kirsty to show her form as she and Sarah Ticehurst (Cambridge Captain) won the first pairs match of the day 5 & 3.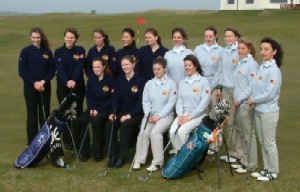 Back Row (l-r): Samantha Grey-Wilson, Sophie Harper, Camilla Day, Tania Oh, Jenny Andrews, Carolyn Olsburgh, Kirsty Wybar, Alex Leriche, Helen Moore, Keiko Saito
Sitting (l-r): Jen Harvey, Lisa Benham (Oxford Captain),
Sarah Ticehurst (Cambridge Captain), Erin Mitchell
In fact, by lunch-time, Cambridge were leading 2 points to 1 and surely felt confident going into the afternoon singles matches.
Oxford, on the other hand, must have eaten very sparingly, and came out hungry for victory, winning the singles 4.5 to 1.5, with Kirsty going down 3&1 to Jennifer Harvey – though the match report suggests all the matches were much closer than the simple tally of points relates.
If you'd like to read a full report of the match, please click on the following link: http://www.gilliankirkwood.com/ercn86/2004/Students/UKGirls/OxvCam.htm.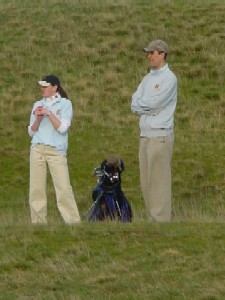 Kirsty and her caddy (a member of the Men's team) consult on a difficult shot in her afternoon match.