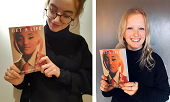 Two former pupils have recently launched the first edition of a new specialist print publication. Get A Life magazine aims to provide creative and relatable material to people who have been diagnosed with cancer. The publication is also aimed at people who have suffered with coronavirus, either through the illness itself or the impact of confinement on their mental health. The publication came about after Cressi Sowerbutts (P02-15) was treated for leukaemia a few years ago and found there was an absence of engaging reading materials, which represented her situation, when she was undergoing treatment.
Cressie asked Georgie Clarke-Gifford (V01-15), who have been friends since childhood, to help with the design aspects of the magazine.
Click here to see the full story on the FC website.