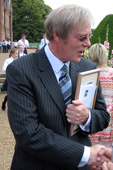 Tony Lawrence (Hon. OF) is set to follow in Laura Wright's footsteps, and sing on the hallowed turf of Wembley!
If you're watching the 2015 F.A. Cup Final, on 30 May, keep a sharp lookout for Tony, who, as a member of the 'Songs of Praise' Football Fans Choir, will be singing 'Abide with Me' ahead of the match.
Tony was selected, together with 63 other fortunate fans, one from each club which contested this season's 3rd Round of the Cup. You can't miss him; he'll be draped in Sheffield Wednesday colours (quite possibly with a large blue & white owl on his shoulder!). Bob Williams (who contributed this piece and is also an Hon. OF) also submitted an entry, reflecting his 45 year adherence to ITFC, in the hope that it might prove a 'double' for former Common Room veterans, but sadly, it was not to be!
To see Tony's rather moving submission as to why he deserved to be his Club's representative at Wembley, follow this link.