In August 2003, Patrick Vincent and his wife spent a few days with his long-time friend, David Lebbell at David's home on Vancouver Island. Just before the Vincent's flew home to Toronto there was a mini-reunion of three
almost-contemporary OFs when they were the guests of Tim (S45-53) and Margie Walwyn at the Arbutus Club in Vancouver resulting in lots of reminiscing and laughter.
Since that reunion, David has made contact with Michael Abbott K34-41 who only lives about 15 km away on Vancouver Island. Although Michael has had a stroke, he and his wife, Diana, seemed well. We hope to hear more from them soon.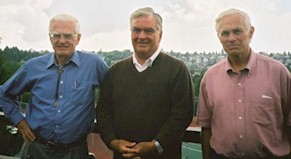 Photo: l-r David Lebbell, Tim Walwyn, Patrick Vincent