The twelve OFs attending were:
John Barrett R22-46
Norman Buck R51-55
Nick Chaplin (Hon)
Bill Collard S55-57
Simon Dougherty G60-67
Bruce Henderson S46-50
Roger Marriott S50-55
John Newson S52-60
Norman Porter K51-57
James Ruddock-Broyd G46-52
Bill Wade K48-53
Andrew Wright R48-57
The evening started with a presentation by Susan Webber, who gave details of proposed College developments over the next few years, hopefully to be completed and ready for the 150th Anniversary in 2015.
A convivial supper followed in the dining room chaired by the President, Simon Dougherty. Afterwards Simon gave an address about current OF events, followed by Andrew Wright who was proud to give us the background of Susan Webber's career, particularly as Captain of the South African Women's Hockey team at two Olympics. This was so pertinent to discussion, earlier, of the hockey career of Norman Borrett, and was an important link with the future in this prestigious sport.
James Ruddock-Broyd then presented seven bound volumes of 48 OF Magazines, covering the full period of their publication from 1978 to 2004, for safe keeping in the College Library. This ended an era for James having been officially involved with the magazine in different capacities for the last 23 years. He also presented three volumes of the Constitutional History of England, which was an 1893 prize for Shorthand which he had found in a Richmond antique shop.  The set was bound in maroon leather, all bearing the College crest.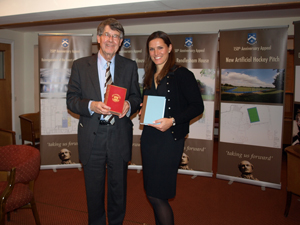 James Ruddock-Broyd with Susan Webber, (College Senior Deputy Head).