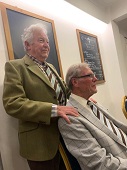 This supper was once again organised by Colin Wigg but at the new venue of the Eaton Golf Club on Thursday 4 November. It was particularly wonderful to welcome Trish Mayhew there, following the death of her husband Ken earlier in the year at the age of 104.
Please click here to read the full report and see plenty of photos of a great evening gathering in Norfolk.
Huge thanks to Colin (and of course Liz) for organising again.