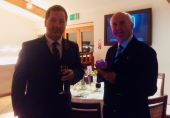 This supper was organised again by Colin Wigg at the Bawburgh Golf Club on Thursday 7 November. John Ling (S49-56) was amongst the guests and he gave a brief resume of his round the world trip and the OFs he met along the way.
Please click here to read the full report and see plenty of photos of a great evening gathering in Norfolk.
Huge thanks to Colin (and of course Liz) for organising again.