Pre-dinner drinks will be served in the same pay bar from 7 o'clock, with dinner being served in the Ballroom at 7.30 pm. The cost of the dinner is £55 per head, including a half a bottle of wine, per person. Dress – Black Tie.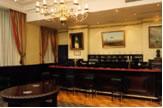 SPECIAL OFFER – the first 20 OFs, aged under 25 years on 23 March 2013, to apply and pay for tickets will be charged only £25.
After the dinner has finished, we will return to the Club Bar to renew old friendships and to make new ones – an extension has been arranged until midnight.
Please click this link for
full details
and this for an
application form
. The tables will be arranged to seat 12 so you can reserve a table for your group or apply for individual tickets. Just fill in the form as appropriate.
Please do not hesitate to contact Simon Dougherty on 01206 735224 or 07808 931656 or
annualdinner@oldframlinghamian.com
if you have any questions not covered by the information given in the letter or application form.
It is possible that transport from Framlingham College to the RAF Club and return may be arranged. This is unlikely to stop at any other locations. If you wish to take advantage of this, please contact Norman Porter by phone on 01473 735565, or by email to
nhp@rillcott.co.uk
Do, please, book early to make sure you have a seat! I look forward to seeing you on the night.