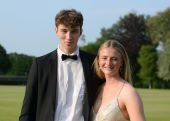 As usual, the Scholarship Selection Panel was faced with a tough challenge in selecting just two young people from a very impressive short-list of applicants for this year's scholarships. However, the final interviews left them in no doubt that they should select Georgie Cantrell and Oscar Endean as winners of this prestigious and important Society role.
Apart from the financial aspect of the award, Georgie and Oscar have already become members of our SOF Council and join Luke Quartermaine on the Young OFs committee. Ele Williamson (M 2013-15) and Rob Norman (S 2002-07) – both of them former Moreau Scholars – have kindly agreed to be mentors to Georgie and Oscar.
You can read all about the Moreau Leaving Scholarships by following this link.