Antonia and Victor will set off on their tandem bike on the 27th May 2006 from Sheffield , where they live, to Portsmouth. In Portsmouth they will catch a ferry to take them to Bilbao in North Spain, from there they will head south to Los Alcácares. They are expecting the trip to take just over three weeks.
The reason behind this trip is to raise money for Parkinson's Disease Society. Both families have and are still being affected by the disease. Four years ago Victor's father was diagnosed with Parkinson's and every time Antonia and Victor visited him they could see the deterioration and wanted to do something positive to lift his spirits. Obviously when he heard what Antonia and Victor were planning he was thrilled and is even thinking of joining them for the last day of cycling when they arrive into Los Alcácares.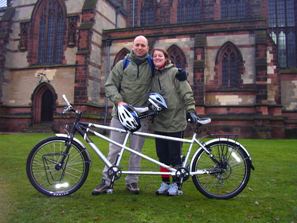 As a result of all this and considering the time it will take to complete the journey, Antonia and Victor have decided that there will be no 'Honeymoon' after the wedding, as this bike trip will be special enough. In order to raise more funds they have decided that all wedding presents will be contributions to the charity.
If you wish to support Antonia and Victor in their fundraising event or just to keep up to date with their progress, please go to www.justgiving.com/victorantonio