Update on 15 June 2007 – Chris Essex (K69-75) writes – I met up with John and Mike at lunchtime today (see photo)
, when they stopped in Radstock, Somerset. John gave a talk on Bowel Cancer to the local Rotary Club. This is one in a series of talks he is giving on the way up to Shetland. By lunchtime today they had travelled about 220 miles, with nearly 700 miles still to go!
After lunch we travelled to John's brother's in Norton St Philips, to pick Ian up for the next stage of the trip. Ian has volunteered to keep them company for the afternoon and tomorrow – see picture of the 3 of them outside Ian's house (l to r John, Mike, Ian)
Prior to setting off John and Mike have sent us the following briefing: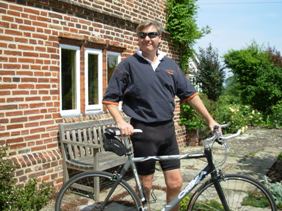 "Bowel Cancer is the 2nd commonest cancer in the UK. With better awareness, screening and treatments we can help prevent Bowel Cancer deaths.
Mike Schneidau and John Masson have set a target of raising £10,000 for Bowel Cancer UK. They will cycle a 900 mile route through the UK, leaving the southern Isles of Scilly, arriving 2 weeks later on the northern Isles of Shetland. Bill Masson, a 75yr old Rotarian will be a support driver! Friends plan to support the ride and join us for the day along the route.
Local Rotary Clubs along the route have kindly supported the ride and given John Masson an opportunity to present a Bowel Cancer Awareness talk.
Bill and Mike are resident in the UK. John will be visiting from Australia where he migrated 10 yrs ago. John has developed an interest in Bowel cancer through his work as a gastroenterologist and because of a family history of bowel cancer. Bill and John did a similar ride from Sydney to North Queensland (1300 miles) in 2004 and raised A$71,000.
This trip is self funded so that ALL funds raised will go to Bowel Cancer UK. Donations can be made by sending a cheque directly to Bowel Cancer UK, (7 Rickett street, London SW6 1RU OR 20, Queens Street, Edinburgh, EH2 1JX), by secure web based donation at http://www.justgiving.com/ukride07 or directly to us on the ride!
Itinerary (June 07):
11th Scillies

12th Penzance to St Austell
13th St Austell to Okehampton
14th Okehampton to Glastonbury
15th Glastonbury to Cirencester
16th Cirencester to Repton
17th Repton to Mere
18th Mere to Standish
19th Standish to Kendal
20th Kendal to Gretna Green
21st Gretna Green to Lanark
22nd Lanark to Perth
23rd Rest day

24th Perth to Montrose
25th Montrose to Aberdeen
26th Shetland
Thank you for your support and sponsorship
John, Mike and Bill"
I, for one, wish them freedom from saddle-sores – and look forward to more news and photographs after the event!