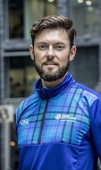 UPDATE : Sandy Walker took bronze in the fullbore rifle pairs earlier this morning with partner Ian Shaw. He also took part in the individual competition and finished 13th with the top 5 all beating the previous games record. See final individual table here.
Original Article : Good luck Sandy Walker (R96-05) as he competes for Scotland at the Commonwealth Games next month in Brisbane, Australia. He will take part in the individual and pairs categories of the Fullbore Target Rifle events. You can read a full article in the East Anglian daily Times via this link.
He will be speaking to BBC Suffolk radio on Friday 23 March (18:10 ish), the following afternoon and featured on the Sports Bulletins over the next few days.