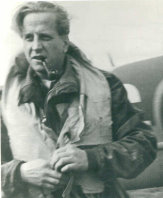 Hopefully most OFs have heard of the war time exploits of Group Captain Percy Pickard DSO** DFC (G26-32). If not, I would encourage you to click here to read all about him (it may take a little while to load as it's a large file).
Adrian Orchard (G72-79)
recently had Pickard's nephew to stay and amongst other things, brought with him his uncle's "in case of death" letter. It is an amazing and humbling document and sets out that he would like his son to also go to the College. Sadly this didn't happen as his widow Dorothy and son Nicholas went to South Africa after the war. With his nephew's kind permission you can read the letter in full by clicking here.