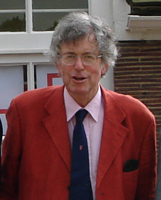 UPDATE: Following Peter's funeral last Friday, click here for a wonderful eulogy by his brother James (S53-60).
ORIGINAL ANNOUNCEMENT : We are very sad to announce that Peter has lost his long battle with Parkinsons. He died on 10 June 2019 and his funeral will be at 10:30am on Friday 5th July at St Ethelreda's Church, Old Hatfield AL9 5HX. Afterwards we will gather at Riding School, Hatfield House. No flowers are requested and any donations should be to Parkinson's UK.
His brother James said "Just to let you know that dear Peter passed away yesterday afternoon, very comfortably; he was finally at peace, methinks. He was moved from the Hertford care home 3 weeks ago, with a weakening heart condition, to Harlow hospital, where it deteriorated. You will understand that, really, Peter's passing is a blessing in disguise, as he had suffered so much for many years."
Peter was for many years a SOF Trustee and this report written Peter Howard-Dobson at the time of his retirement may be of interest.