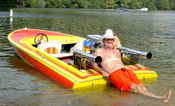 Chris Essex writes : As the editor of the Overseas Bag, I'm pleased to say that I have just published the latest news and views from Overseas OFs for Spring 2008 in the People section (click here to go to the People section or use the menu at the top of the page. You will need to be signed in to the website to access the Overseas Bag).
There are a fantastic 16 pages of news and pictures from around the world and well worth a read. For example find out who this OF is and what he gets up to! Space considerations mean that both the Newsletter and Yearbook can only contain an edited version of this news, so I strongly encourage you to sign up and read about your former school mates.
I was particularly delighted to hear from many overseas OFs for the first time and I'd love to hear from more of you. There are now around 800 OFs who live overseas from the UK. Please get in touch with me here.