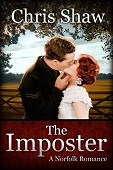 UPDATE : Chris's book has recently been reviewed in the US by Charles Remington and you can read his brilliant review by clicking here. Watch out for Chris's next book which will contain more references to OFs!
ORIGINAL STORY : Chris Shaw (K50-56) has just published his 7th book, which is his first novel and called The Imposter.
It's based on a true story and is set in Norfolk and France/Belgium in WW1. It starts in the year 1914 in central Norfolk, England, when young farmer Frank Matthews meets his all-time love, Gwen Bell, just before volunteering as a sniper in WW1. And just who is the mysterious discharged soldier Ken Bullen, appearing in Norfolk in 1917, intent on reclaiming his lost life and love? What happened to these two men fighting for their country in a bygone era of romance, violence, shell-shock and fragile new beginnings? The Imposter: A Norfolk Romance will reveal all…
It took Chris ten weeks to write but ten years to publish, but that's another story. It's available from Amazon and Book Depository and is coming to Waterstones.