I am pleased to announce that, as of July 2008, there will be a new club, 'The Old Framlinghamian Clay Pigeon Shooting Club' (OFCPSC) which I have set up with the help of Nigel Burnip (Captain of the OFRC). The club badge heads this article.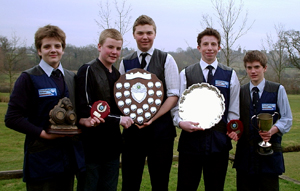 This photograph is of the College Clay Shooting Team 2005-6 with me fourth from the left.
The real beauty about having an OFCPSC is that it ticks so many of the boxes that the SOF tries to encourage. Clay shooting is a very social sport that includes everyone possible; it doesn't matter about gender, age, or disabilities – anyone can not only have a go, but can develop great skill. Joining the OFCPSC will give you the opportunity to network with all kinds of people, making new friends and also catching up with school mates you may not have seen for a number of years! The College was a wonderful place for many of us to study and the OFCPSC will also encourage members to revisit the College when we compete against the present College team.
If you're interested in joining the OFCPSC please contact me by Email by clicking here: Email Robert Norman.
Alternatively, write to me at:
Valley Farm, Low Road, Topcroft, Bungay, Suffolk, NR35 2BQ.
Or phone me on Mobile: 07884 372953
I look forward to seeing you at a clay ground soon.
Rob Norman
Hon. Secretary OFCPSC
Two generations of OFs in action: Robert (left) and his father, Harvey, shoot some clays.