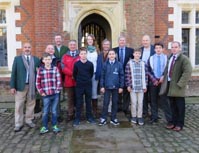 Roy Witham writes: Old Framlinghamians Rifle Club (OFRC) v Framlingham College & Prep School Rifle Club
On Saturday 26th November 2016 saw the annual shooting competition against the OFRC. First port of call for the OFRC was to the Framlingham Prep School. The competition there was firstly a "Grouping Shoot" and then the "Rat Shoot".
Results from these competitions saw a point a piece as the OFRC took the Grouping Shoot and the Prep School the Rat Shoot.
Top Shot for the Prep School Henry Jackson
As the formidable OFRC team moved to the College and after a quick lunch battle commenced on the CCF Range. Firers had to shoot two "10 Bull Targets and the grand total determined the winning team.
As most of the College had shot the previous week it was literally down to the last firer of the OFRC. Could he produce a card, the scores were in,
OFRC 1810
College 1813
Top Shot for the College Jonathan Thorp
The College wins over all retaining the prestige "Podd Trophy".