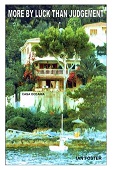 Ian Foster (K46-53) writes from Mallorca in Spain saying that during Lockdown he has written and published his memoirs. These include his thoughts about his time at the College from being a new boy in 1946.
The book can be read online for free or purchased (no profit for Ian) via Blurb and here is the link. The chapter on his time at the College starts at page 29
https://www.blurb.co.uk/b/10362608-more-by-luck-than-judgement
The front cover of the book, shown here, is a picture of his current waterfront home in Mallorca.