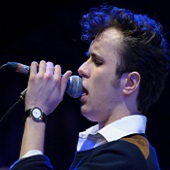 OF Ollie Trevers (G11-13) has been commissioned to write two songs for the soundtrack of a new film called 'Funny Cow'. The film charts the rise to stardom of a comedienne, played by Maxine Peake, through the 1970s and 80s working men's clubs and stand-up comedy circuit. It will premiere at Cannes before a screening at the Toronto Film Festival. Its UK premiere will be in September 2017. The film is directed by Adrian Shergold.
One of Ollie's songs, which he performs in the film, is called 'Twist it, Shake it' and was written in the style of a 60's dance number. Ollie reportedly wrote the song in just 3 hours.
Ollie was last seen at the College performing for revellers at the 1st Young OF Ball in April 2016.