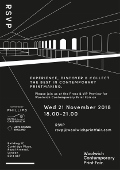 Jack Bullen (G03-08) writes "Woolwich Contemporary Print Fair was set up in November 2016 by my wife Lizzie Glendinning and myself in the Royal Arsenal. As a printmaker myself I was keen to promote a medium that is very often overlooked and miss-understood. At the time no other fair in the UK dedicated much thought to the contemporary printmaking scene and we wanted to challenge this by setting up an annual fair that could showcase how rich, dynamic and innovative the printmaking scene was.
The first fair had just under 100 exhibitors taking part having been individually approached and invited by Lizzie and myself. We had a multitude of excited artists getting in touch following the fair and we launched our first international open call last year showcasing over 200 artists in total.
Having relocated to a premises three times the size of last years fair we were able to open up booths to partnering galleries such as the Royal Academy and Royal Society of Painter Printmakers. The total number of exhibitors this year passes 350".
Click here to see details of the 2018 Fair. Anyone interested in contact Jack please email him.