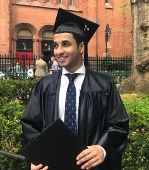 In 2014 the SOF Trustees provided some financial support to enable Sadiq Keshwani (R09-13) to go to Kings College New York to study Finance. He had no family in the UK but a brother in New York. We are delighted to report that Sadiq has just graduated and is very grateful to the SOF for the help they provided "None of this would have been possible without the help the Society has provided me."
You can read his full letter to Martin Myers-Allen (Hon OF) by clicking here.
He tells us that he plans to stay in the US and has started job hunting in the Fin-tech space.