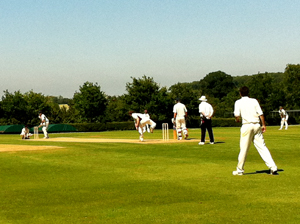 By the time the College had cruised to 45 without loss, inside the first half an hour, the match appeared to be just about over, but Captain James Pearson had other ideas. First he removed Barker and O'Leary in successive deliveries, and then, ten balls later, he accounted for the wickets of Precious, Jones and Rider to spark riotous celebrations as the College boys collapsed to 65-5. However, Robbie Bridgstock, his opposite number, was equally resolute and, together with Tim Alexander, they slowly began to claw back the initiative to reach their target with no further alarms, and the College cruised to 114 for 5 with rather a lot of overs to spare.
(James Pearson bowls to take his fourth of five wickets).
With so much of the day still remaining it was then agreed to play a Twenty20 match, with the OFs setting the early pace. Dominic Whitehouse survived numerous chances in his 23 before handing over to Tom Huggins (42) and James Pearson (27) to set a target of 169. Opener, O'Leary continued his miserable day to collect just a pair, leaving Ed Barker (59) and Eddie Havers (24) to mount the challenge. When Bridgstock finally entered the fray, batting at number seven, 50 were required off four overs. His 38 drew everyone to the edge of their seats as the match came down to the last ball with 6 required for the tie. Stannard held his nerve, Bridgstock didn't get his six, and the OFs celebrated a consoling victory.
Many thanks to Tom Huggins and Jamie Mayhew for most of the text of this article.