I have been racing since 1988 in various cars including Alfa Romeo, Saab and Rovers. In the last 3 or 4 years it has developed into a family affair with my two co-driver being my sons Richard 26 and Marc 22.
We race in the UK, France and Belgium in an endurance racing series called the Uniroyal Fun Cup, which consist of long distance races from 4 to 25 hours. (see photo). The race-car is basically an Audi single seater with a fibreglass silhouette VW Beetle style body lopped over it!
We are lucky to have some good sponsors including Cuisine De France, SPAR, Coca Cola and Vodka Kick.
The crew that support us at the races (engineers, mechanics and pit crew) are all volunteers and include another OF, Nick Carley (G64-72), who still lives in Framlingham. Nick is our pit wall co-coordinator and looks after all the timings and pit to driver communications. Logistics is a bit of a problem as I live in Cornwall, but the race car is kept in a barn at Wriittle agricultural college!
We had a dreadful season in 2004 with 4th being our best result in 6 races, whereas in 2003 we finished second in the UK Championship, the Uniroyal Team Cup. Races are televised on Sky Sport 2 and 3.
My interest in motoring was very evident at Fram. I was one of the founder members of the Framlingham College Motor Club in 1971 (now defunct I think). Other founder members were Nick Carley, Rob Giles and Phil Ashwell. Rendlesaham house master Chris Carruthers was our "Patron". Our highlight was in 1972 when Ford Motor Company lent us a new Ford Escort Mexico to road test for a week…….I think it was written up in the College Magazine. Low point was when Rob Giles fell off his moto-cross trials bike down at the old CCF Farm yard and broke his arm…….Mr Rimmer was not impressed.
The race season starts again in April 2005 and race report are posted on our web site www.connell-racing.co.uk Prior to that I am off skiing with a few friends including another OF, Richard Green (R68-73). We had hoped Andy Prewett (R67-72) would also go, but he has some exciting business plans for 2005 that are restricting his time. I am also in contact with Dave Hunter (R68-73) who is a BA pilot.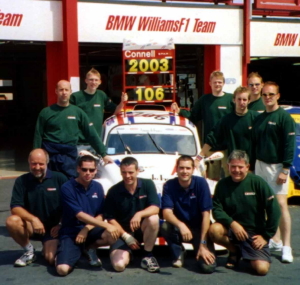 I attach a team photo from the SPA 25 hours in Belgium in 2003, a race that had over 130 cars in! In the team photo row kneeling are from left, Nick Carley OF , Richard Connell, Colm (Team Manager), Marc Connell and Ian Connell, OF. The others behind are all pit crew