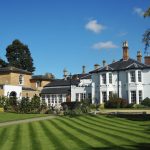 The Newmarket Supper will be held on Friday 10 May at Bedford Lodge Hotel, Bury Road, Newmarket CB8 7BX.
Stephen Mynard (K 71-78) is a lawyer with an interest in politics. He will be speaking about Brexit with a wry insider's perspective in an attempt to extract some humour from the wreckage.
The hotel did an extremely good meal for us last year, and the facilities create a very comfortable, relaxed atmosphere. This year dinner will cost £34. The bar will be open from 6pm in the Oaks & St Leger Room and supper will be served at 7:30. Concessions are available to Moreau Scholars and the first 10 under-30s to apply.
The hotel has plenty of free car parking. Please see BedfordLodgeHotel.co.uk for more details.
To book, please reply to Ian Fulcher at Ian@Fulcher.uk, 07703 200803 or The Lodge, Church Lane, Exning, Newmarket CB8 7HF. Payment should be by online banking to 20-60-38 90146803. Cheques payable to Ian at the above address are equally welcome.
Trustee and Council meetings will precede supper in the Derby Room.