The other four selectors were Brian Smith(S 53-57 & President SOF); Kirsty Wybar (P 90-03), David Mallett (K 93-03) and Norman Porter (K 50-57 & Hon Gen Sec SOF).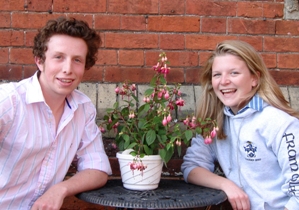 Robert and Katie will be formally presented with their awards on Speech Day.
Apart from receiving £800 a year for the three years of their scholarship term, they will also be appointed to the Society's Council, where they will join Abigail Mackrill and Hannah Gunn, last year's scholars, and help them to ensure that younger members' expectations of the Society are brought into greater focus.
To help maintain social links within and between leaving-groups, our scholars will take on the task of organising at least one sporting and/or social event each year for their particular leaving group, and will be encouraged to work with other scholars, once appointed, to make sure these events appeal across age ranges.
A further element of the Scholarship programme is a Mentoring scheme. Each of our scholars will have, as their personal mentor, a senior member of the Council, who will provide advice and guidance (and a sympathetic ear) both as they begin to contribute to Council meetings and as they go through their university careers.
Please visit Moreau Scholarships and then Scholars for profiles of Robert and Katie, which we will update from time to time through their three-year term.