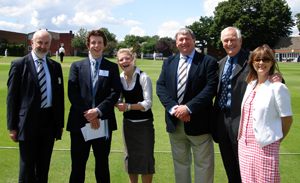 Our photograph shows, from Left to Right, Brian Smith (President SOF), Robert Norman, Katie Blow, Nigel Burnip (Mentor to Katie Blow), Norman Porter (Hon Sec but also Mentor to Abz Mackrill, one of last year's scholars), and Ruth Elwood (Mentor to Hannah Gunn, the other scholar last year).
Katie and Robert are now fully-fledged members of the Society, and will serve as Members of Council for their three-year scholarship term.
For more information about this year's and last year's scholars, please visit the Moreau Scholarships section of the website and follow the links under Scholars.