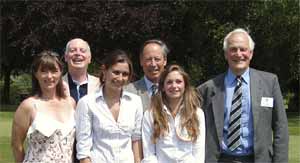 Lord Wilson of Dinton, Master of Emmanuel College, Cambridge, presented cheques for £800 to Hannah Gunn and Abigail Mackrill, who then joined their mentors, Ruth Elwood (P 80-84) and Norman Porter (K 52-57), for drinks and a buffet on The Back. They were joined by Peter Howard-Dobson (R 65-69), Chairman of the selection panel for the scholarships, and Andrew Wright (R 48-57), President of the Society of Old Framlinghamians and a member of the selection panel.
Our picture shows:
Front Row: Ruth Elwood; Hannah Gunn; Abigail Mackrill; Norman Porter.
Back Row:Peter Howard-Dobson; Andrew Wright.