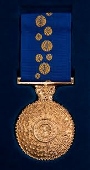 In 2001 Mike's contribution to tennis in Australia was recognised by the awarding of the Australian Sports Medal (ASM).
On 13 June 2016 in the Queen's Birthday Honours List he was additionally awarded the Medal of the Order of Australia in the General Division (OAM) "for service to veterans, to tennis and to the community".
On 19 October 2016 he received the award from the Governor of Victoria and if you click here to see Mike's entry in the Distinguished section of the website, this gives more details and photos including one of Mike proudly wearing his OF tie at the award ceremony.