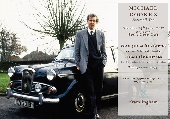 Mr Cooke is retiring at the end of the Summer Term after over 42 years of teaching at the College. The College will be hosting a special tea for him in Paul's Court Café between 3:00pm-5:30pm on Saturday 24th June 2017. This is a free event open to all OFs.
The tea is on the same day as the College 1st XI v Felsted cricket fixture on The Back, the inter-school Alumni Hockey Festival on Inskips and the Summer Ball for 80s and 90s Leavers in the marquee. This being the Saturday of the annual OF Sports Weekend there will be a lot going on, including College 1st XI v Staff v OF cricket matches on the Sunday. During the course of the weekend tours of the College will be available and the swimming pool will be open for OFs and their families. This makes the tea party just one of many excellent excuses to return to Framlingham.
For catering purposes we ask that you RSVP as soon as possible to Jane Easey if you plan on attending Mr Cooke's Farewell Tea. Also can you please let Jane know if you are interested in any of the other events taking place on the 24th & 25th June and she will send you more information. If you would like a tour of the College during this weekend you will also need to book it in advance.