Maurice's daughter, Anne Garrett, (who also lives in America) sent the following message (She also sent the attached photograph of Maurice in 2004 aged 96):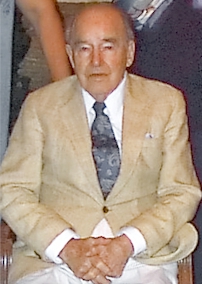 "He enjoys extremely good health, writes to a long list of friends and relatives on a weekly basis, is well known for his water colors, his ability to grow fantastic violets. He plays chess, poker and bridge and reads with the aid of a talking book machine so keeps abreast of what is going on in the world. He has an unusual outlook on life and a great sense of humor (humour to you). He is the father of me and my younger sister, Gillian Townsend-Green, who lives in Devon"
His grandson Tim Garrett (also in America) adds the following :-
"Maurice is one of the strongest Scrabble players I've met, routinely using his word skills to trounce our family — who are all 300+ point players — when we play. He tackles a crossword daily and tunes in to BBC Radio whenever possible. Non-conformity runs in the family, and we recently heard that Maurice elected to run full speed down the hallway of his group residence! The news did not surprise me in the least; I've watched him power-walking on our treadmill. He is rather fearless."
"I further understand that Maurice's becoming an American citizen several years ago may have qualified him as one of the oldest to do so. It strikes me that the achievement of such a distinction pleases Maurice greatly (as he does enjoy telling stories … all of them true!), and he remains full of facts and figures and future plans. He enjoys fairly excellent health and subscribes to disciplined dietary and exercise regimens. I understand he recently retired from painting watercolors, of which we have several expert examples on display in our home."
As a US citizen now, we are not sure whether Maurice will qualify for a telegram from the Queen next year! A remarkable chap.