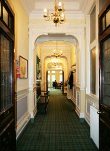 London Suppers at The Farmers Club are always great fun, in this venue that somehow combines a splendid location with the atmosphere of a family home (albeit a large one!).
Keith Handley, who organises the event, is keen to hear from anyone who would like to come (Email Keith Handley).
The essential details are as follows: 8th July 2008, Farmers Club, 3 Whitehall Court, London, SW1A 2EL. 6.30 for 7.00pm. Cost: £30 which includes half a bottle of wine.