The players all met beforehand for a light lunch and to meet their team mates and their opponents. After a brief lunch, the players went out for a quick warm-up and to discuss tactics with their Captains before kick-off.
Old Framlinghamian 'Suffolk':
(GK) Alex Dunham, (RWB) Bernard Dyer, (CB) Will Melrose, (LWB) Jonny Iseli, (RM) Josh Wilkinson, (CM) Tom Osmanski ©, (LM) Sam Williams, (ST) Charlie Vinten
Old Framlinghamian 'Rest of the World':
(GK) Dom Whitehouse, (RWB) Teddy Harrington, (CB) Peter Twentyman, (LWB) Seb Denby, (RM) Chris Treacy, (CM) Ben Vinten ©, (LM) Ali Norman, (ST) Harry Bell
The Match:-
The referee, Clive Norton (College Deputy Head – Academic) got the game underway at 2:00pm with 'Suffolk' starting with possession.
The 'Suffolk' representatives started the match well, playing a good passing game from the get-go. The early possession would eventually pay off, with the 'Rest of the World' ('ROW' from this point onwards) struggling to handle the pressure. Charlie Vinten collecting from Tom Osmanski in the final third of the pitch and started to run at the 'ROW' defence causing problems, he managed to find a yard of space from a pressuring Seb Denby (K 2004-09) and shoot from the edge of the 18 yard box, the ball managed to squirm under the diving Dom Whitehouse (K 2005-10) and start to roll towards the goal. This allowed Josh Wilkinson to run in and tap the ball home, giving 'Suffolk' an early 1-0 lead inside the opening 5 minutes.
 

 

 

5

Goals

13

19 (14)

Shots (On Target)

27 (18)

6

Corners

5

8

Fouls Committed

6

0 (0)

Bookings (Red Cards)

0 (0)

74 %

Shot Accuracy

67 %
A second goal would very shortly follow, after 'Suffolk' won their first corner of the game. Charlie Vinten delivered a great ball into the box, evading all the 'ROW' defence and Josh Wilkinson (S 2006-11) was there again to make it 2-0. Two minutes after the restart, Wilkinson was on hand yet again to score the first ever OF football hat-trick and to increase his team's lead – things weren't looking very positive for the 'ROW' side.
Josh Wilkinson heading towards goal – only to be poorly cleared off the line by Teddy Harrington, allowing Josh a second attempt to score his second to make it 2-0.
Despite being 3-0 down so early on, 'ROW' started to play well and find their feet – in particular Chris Treacy (G 2002-10), and his extravagant purple boots, who appeared to be a constant threat on the right-wing to the Suffolk defence, hooking up well with Harry Bell (K 2007-09) and creating some decent chances – although to no avail. The pressure kept mounting until the referee judged that 'Suffolk' defender, Jonny Iseli (R 2007-09), had intentionally passed back to his goalkeeper – this could be the break 'ROW' needed. The indirect free kick was taken by Harry Bell, squaring it to Treacy who struck with power – forcing a great save from Alex Dunham (S 2002-10) to keep his clean sheet intact.
'ROW' did eventually break through however, with Treacy earning his side a penalty that he took himself, placing it hard and low – giving Dunham very little chance of saving it. This proved to be the kick-start needed to get back in the game with two quick goals from Harry Bell making the score line level. 'ROW' kept pressuring the 'Suffolk' defence, looking to go into the lead with half-time approaching – this pressure would soon pay off with Treacy winning his side another penalty which he calmly converted to put his team into the lead. Bell was able to grab another before the half-time whistle blew, putting his side further into the lead.
Half-time arrived with the scores 5-3, and all to play for. After a brief half-time break, the game got back underway. 'ROW' started with the ball and within 25 seconds found themselves 6-3 ahead, after Ali Norman (K 2004-09) managed to turn the last defender and shoot from just outside the 18 yard box, smashing the ball into the top right-hand corner of the net.
Charlie Vinten and Seb Denby compete for the ball early in the second half.
Goals kept coming after this, with Ben Vinten netting his first goal of the game; also both Harry Bell and Chris Treacy both completing their hat-tricks and putting their side further ahead. 'Suffolk' were presented with a chance and Wilkinson was there once again to score his fourth and, only a few minutes later, Sam Williams managed to find a bit of space from his marker and shoot from 25 yards or so, catching everyone off-guard. The ball crashed against the near post and flew in. With just over 15 minutes to go, and the score line standing at 8-5 – a few quick goals could have changed everything! However, this was not to be, with Ali Norman going on to complete his hat-trick, and with Chris Treacy and Harry Bell both grabbing a fourth each–putting their team into a commanding lead, 12-5.
To finish, Ben Vinten (R 2004-06) was put through by Teddy Harrington to grab his side's 13th goal, and the 18th of the game, with just less than 5 minutes to go – topping off a good performance from midfield and grabbing his second goal of his own after providing 4 assists to his team mates. 'Suffolk' had a couple of chances to get a consolation goal – but Whitehouse was on hand to deny them.
The final whistle was blown with the score line standing at 13-5 to the 'ROW' side after coming back from 3-0 down early on to win in convincing fashion, with both Harry Bell and Chris Treacy scoring 4 each.
After the Match:-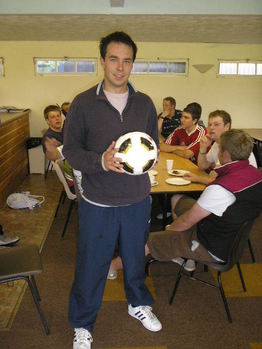 The '
Man of the Match'
award (the match ball) was presented to Tom Osmanski (S 2005-09) by Clive Norton and Norman Porter, back in the wooden pavilion after the game for his solid display in midfield and for leading by example as the 'Suffolk' Captain. Other awards were also made, with Bernard Dyer receiving a bottle of wine as a token of thanks for giving up his role as assistant referee and for standing in at the very last minute to play for the 'Suffolk' side to even up the numbers. Clive Norton also received a bottle of wine for kindly agreeing to be the referee and be in charge of the game. Finally, Leigh Cunningham received a bottle of red wine for her much appreciated work organising things at the College, ready for the big day.
I would like to thank everyone involved in getting this football match up and running, especially  the OF Society for their backing in this event – I would also like to particularly thank Leigh Cunningham and the College for their hard work in preparation for this event, especially as it took place outside of term time. To the groundsmen who prepared the pitch ready for the game – I received a lot of positive feedback from the players about the pitch, saying that it was a great surface to play on. To the College Catering team, thank you for providing a wide range of snacks and drinks for players and spectators before and after the match.
Finally, many thanks to the two Captains and their teams – it's obvious that without you all playing , this event could not have gone ahead – thank you to Charlie Vinten for very kindly filling in on the day and representing team 'Suffolk'. I was very pleased to hear from players that they would like this event to be repeated in 2012. I really appreciate the support from everyone involved in making the Inaugural Old Framlinghamian football match a success, and I look forward to doing this event again next year!
Teddy Harrington (S 2005-10).
Making History – Team 'Suffolk' and 'Rest of the World'
From L-R: Clive Norton (Referee), Ben Vinten, Charlie Vinten, Chris Treacy, Peter Twentyman, Teddy Harrington, Ali Norman, Sam Williams, Seb Denby, Will Melrose, Harry Bell, Jonny Iseli, Dom Whitehouse, Josh Wilkinson, Alex Dunham, Bernard Dyer and Tom Osmanski.