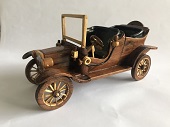 We received a great story from Mike Bullock (R55-59) in South Africa. He has kept busy with his hobby of making model cars out of wood. He made a model of a Model T Ford from pieces of scrap Tambootie, which is a Lowveld hardwood. Click here for a photo.
He then made a model of the first petrol driven motor vehicle by Daimler Benz, also from scrap tambootie timber, which you will see has a lovely grain but is apparently toxic when burnt. Click here for a photo.
The "plans" came from images off the internet and they are not to the same scale. He also made a model of his first car an MGTC so he now has 3 model cars, one for each of his grandsons.
We would love to hear what other hobbies have flourished during lockdown.