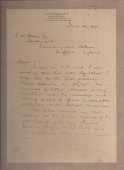 Professor Neville Marsh (S53-61) has recently downsized house in Queensland Australia, so as part of that process has been having a sort out of his personal memorabilia. He came across a picture he painted for a school art competition in 1961, which was framed and mounted on a piece of card. When he took it apart, that piece of card contained an original letter written by our only OF so far to become a Prime Minister, but what is even more amazing is the letter was carried on the first ever transatlantic flight by Alcock and Brown.
The letter was sent by The Honorable William Warren KC (1892-99) to the then headmaster, FW Stocks. You can read the full story of how the letter came to be with Neville in Australia and the distinguished life of Warren by clicking here.
The letter has safely arrived back in the UK appropriately via air mail and Neville wishes it to be returned and looked after by the College for future generations.