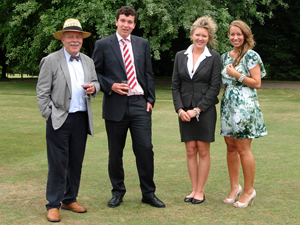 After the speeches, Teddy and Hannah joined their SOF Mentors, Chris Keeble (S 53-59) and Sophie Rogers (M 94-02) for this celebratory photograph.
Each Moreau Leaving scholar gets £800 a year, for the three years of the scholarship, to help towards the development of their chosen career path; becomes a member of the SOF's Council ; and is provided with a Mentor from the ranks of the SOF's Council to provide advice, a metaphorical helping hand, and a friendly ear. The Society's aim is that, apart form providing a vital element of youthful input to the affairs of the Society and its management, the scholars will provide a focal point for contact within their leaving group, leading to at least one social event a year which their alumni group will want to attend.

Teddy & Hannah were then joined by several other members of the selection panel, and the Moreau Scholarships wider family for this group photograph.
From left to right: Simon Dougherty, Peter Howard-Dobson, Chris Keeble, David Mason, Teddy Harrington, Hannah Gardner, Sophie Rogers, Hetta Rogers and Norman Porter.

For more information about Hannah and Teddy, and about the other eight past and present Moreau Scholars who've been part of the scheme, please click on "Moreau Scholarships" in the main menu, then the "Scholars" menu item, and then their individual named links.