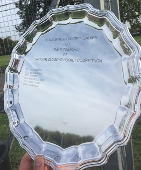 Huge congratulations to the OF team at the Haileybury 6s last weekend. After winning the tournament last year they narrowly missed out on retaining the title, losing out to rivals St Edward's. The final was well fought by both teams finishing 4-4. Then in the last minute they won a Short corner to take the victory.
The team comprised Sean Collins, Oliver Cutting, Josh Cutting (C), Andy Cutting, Ben Gowing, Tom Dunnett, Luke Quartermaine (GK) , Will Tew
Read the full report and see photo here.