Peter Liell and Peter Howard-Dobson, members of the RW&NGC, took on "the rest of the world" in the shape of Jim Blythe and Norman Porter.
The standard of golf was a touch variable, but the competitiveness of both teams was never in doubt. This photograph is perhaps a little unfair but, if nothing else, it shows the sort of co-operative approach to problem solving that the trustees always adopt; with the dividend that Norman Porter retrieved no fewer than four golf balls from this bush, in return for the single ball that Peter Liell had fired into it!
After nine holes the match was pretty evenly poised, with the two Peters 1-up. A swift half of Greene King and a few fingers of anchovies on toast fortified everyone for the second half.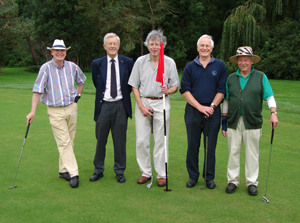 Messrs Blythe & Porter fought back hard but, in the end, were overwhelmed and the match finished on the 17th green. The bye was won by "the rest of the world", which seemed only fair, and the teams were joined on the 18th green by David Mason (who is much too wise to ruin a good walk by hacking at a little white ball).
An excellent lunch followed (they always do such things brilliantly at Worlington) and a toast was proposed and drunk to Peter, both to wish him well in retirement and to congratulate him on his recent marriage.