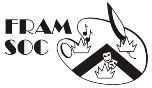 Back in September last year, Paul Taylor announced the launch of FramSoc, "A new society, principally aimed at current parents, to enhance and broaden our community, providing opportunities to meet each other and members of staff in a relaxed atmosphere, and to share the educational and cultural facilities available here".
He went on to say, "While current College and Brandeston Hall parents will form the principal focus of the society, it will also be open to the wider community, including past parents, teaching and non-teaching staff, and others associated with the College". This includes, of course, Old Framlinghamians.
After a very successful series of events in the Autumn Term, and the formation of a committee comprising both staff and FramSoc members, the society is now very much open for business, with another full programme of events which might well appeal to Old Framlinghamians. Most of these will be free to FramSoc members, while a few will be charged for, only to recover direct costs.
Please click on the links to: read an
, see the current
, or to download and print a
.
You can also read more about FramSoc, and download these documents, on the College Website.