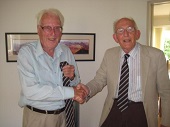 Deryck Cox, music master at the College 1959-1972, had a surprise visit in June 2019 from OF Douglas Thomson (K53-61) who presented him honorary membership of the OF Society.
Deryck left the College before the awarding of honorary OF membership to staff came into being and you can read the full story here.
You can read the full citation here.