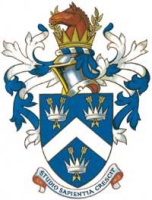 UPDATE: The Memorial Service for John Edwards due to take place on Thursday 19th March at St. Giles Church, Codicote, Welwyn has been postponed due to Coronavirus. It is confirmed that one will be held at Framlingham College, but its timing will depend on the relaxation of lockdown and will also take into account social distancing rules for older citizens. Consequently, there will be a delay. However, we will be informed, in good time.
ORIGINAL : It is with much sadness that we report the death of former SOF President and School Governor for many years, John Edwards (K45-55) on 12 January 2020 in Lister Hospital in Stevenage. He was SOF President in 1977 & 1978. He was taken into hospital a couple of weeks ago with a chest infection and never really recovered.
Thanks to the College a Memorial service for John will be held in College Chapel at 1400 on 13 May 2020. It would be helpful if those planning to attend could email Richard Sayer to advise likely attendance to help with catering. John's funeral will be a private family affair but there will be a local memorial service at St Giles at Codicote in Herts on 19 March at 1100.