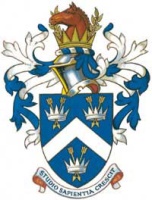 We are sad to announce that Rev'd Richard Law, Chaplain at Framingham College 1972-1983 (known as Wag) passed away on Sunday 14 January 2018 after a long struggle with Alzheimer's disease. He died peacefully with his immediate family around him.
His funeral was held on Wednesday 7th February 2018 at Manormead Supported Housing Chapel, Tilford Road, Hindhead, Surrey, GU26 6RA at 11am. A Celebration of Richard's Life will be held at St Michael's Parish Church,Framingham on Saturday 9 June 2018 starting at 11am – click here for details. Our thoughts and prayers are with his family.
SOF President John Ellerby and OF Adrian Orchard were present at the Requiem Eucharist on 7 February 2018 – click here to see the front cover.