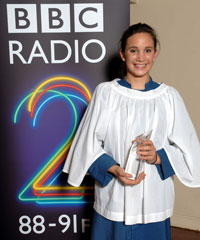 You may find more information on the following websites:
BBC Website for Young Chorister of the Year.
Click Here to listen to Laura's prize-winning performance on the BBC Radio 2 website
Click Here to listen to Laura's broadcast on Good Friday on BBC Radio 2. Please note that BBC Radio 2 only keep these links for about 1-week, so it may not work after Friday 21st April. The recording starts at the end of the previous programme followed by the News; if you click the "Advance 5 minutes" button that brings you to the start of Laura's broadcast.
Laura sings in two movements – each movement is about 5 minutes long – and also in the two hymns that begin and end the broadcast. In between each movement is a reading either from St Mark's account of the Passion (read by a very over-the-top Rosamund Pike, who apparently was a Bond girl) or a poem (read by some bloke from Holby City).
1. Requiem aeternam
2. Out of the deep
3. Pie Jesu with Laura Wright
4. Sanctus
5. Agnus Dei
6. The Lord is my shepherd
7. Lux aeterna with Laura Wright