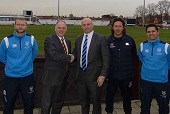 The College are delighted to announce an exciting new partnership with Northamptonshire County Cricket Club. College students will have a direct and clear potential pathway into professional cricket, with regular opportunities for boys and girls to take part in Academy and Elite Player Programme (EPP) sessions at the County Ground. Northamptonshire CCC will enjoy access to the College's outstanding cricketing facilities for their own players.
There is a longstanding association between the College and Northamptonshire, going as far back as the 1960s, when OF David Larter (R51-57) opened the bowling for the County and more recently, Robert Newton (R03-08) has been an opening-batsmen and has just signed anew contract.
Click here to see full announcement and photos.