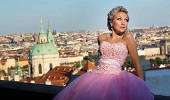 Internationally acclaimed Classical Chart topper and OF Christina Johnston (V01-06), who has graced opera stages all over the world, will perform beautiful songs from Mozart to Andrew Lloyd Webber all under the banner of A Heavenly Gift, accompanied by the very talented pianist, Jade Hey. To hear Christina's beautiful voice click here
This purpose of the evening is to raise vital funds for The Beehive charity, a home dedicated to the rehabilitation, education and loving support of vulnerable child-mothers and their babies in Nakuru, Kenya.
For more information on the concert and how to get tickets, please click here.