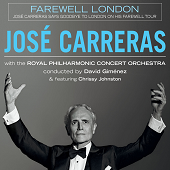 Jose Carreras, the legendary tenor is saying farewell to London on June 16th and Chrissy Johnston (V01-06) has been chosen personally by Jose to feature with him and The Royal Philharmonic orchestra at Kenwood House this summer! Chrissy writes "It will be the most spectacular concert and the wonderful Sheku Kanneh-Mason, who was the cellist at Meghan and Harry's Wedding last year, will be the warm up act. It will be everyone's last opportunity to hear the beautiful sound of Jose and the beginning of hearing me, as Jose hands over the baton to me."
Jose and Chrissy will be singing many diets together and Chrissy will be debuting her beautiful soprano solo pieces! Click here to see poster and tickets can be found here.
Chrissy will also be singing at Ascot this summer as she has been chosen to be the voice and face of The War Horse Memorial Charity. They have a beautiful statue of Poppy the horse in Ascot and Purple Poppy Day launched in the UK last summer August 23rd.
Chrissy, a keen horse rider herself, is honoured to be an Ambassador for the charity. "We forget how much these beautiful animals did for us during the war, over 8 million died in effort to save us. They laid their lives down for us heroically. I am honoured to be able to honour them with the songs written by Warwick, Young and Maclean."