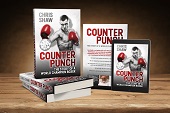 Chris Shaw (K51-56), not content with one successful novel The Imposter he has released on 17 August his new book titled Counterpunch. It's the story of a young, London boxer who makes it to World Champion. There are lots of twist and turns that include the FBI, SAS, and police officers on two continents. Chris says "It packs a real punch from the first page (sorry!) and every competitive sportsperson will enjoy this book."
Its available on Amazon via this link and see the attached sheet.
He now has a huge promotion job ahead of him to all the gyms and boxing establishments around the world to promote the book from his desk in Cairns Australia and he wonders how Charles Dickens got on with quill pens and no email/internet?