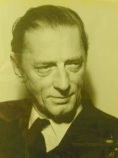 One of our most distinguished Old Framlinghamians is undoubtedly Captain Augustus Agar VC DSO RN (1902-03). Over the last couple of months Commander John Simpson (K32-36) has been doing some detailed research into Agar VC and the fruits of his labours are now up on the Distinguished section of the website.
In undertaking this excellent piece of work, John obtained access from Tony Martin (G47-55) to an actual recording made by Agar himself, describing his heroic exploits in 1919 that earned him his VC and DSO and obtained and studied a copy of Agar's autobiography.
The results of this work can now been seen here. This brilliant piece of work is a valuable recording for future generations. In addition, you can listen to the actual recording that Agar himself made either via the article itself or by clicking here
My thanks to John for his hard work on this piece, which I believe deserves special mention. The piece also includes, with his permission, some fascinating personal reflections of his own when researching and writing this piece.