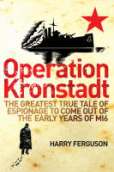 One of the 3 distinguished OFs to win the highest award of the Victoria Cross, is the main subject of a new book written by Harry Ferguson and called "Operation Kronstadt". A review of this book, covering two full pages, appeared in the Daily Mail dated 10 May 2008, along with a picture of Captain Augustus Agar VC DSO (1902-03). You can read a copy of the review and see the picture by clicking here.
To read an excellent article on Augustus Agar, written and researched largely by John Simpson (K32-36) read the article in the distinguished section here.
You can also listen to the great man himself describing in detail the heroic exploits that led to his VC here.
We are truly privileged to have such a distinguished OF.